BOOT HILL BLIND DEAD
"She came to the Wild West Sideshow,Not knowing she was the MAIN ATTRACTION !"
Boot Hill Blind Dead: The Handsome Stranger, The (2003) - [The Gravedigger]

At a carnival a carnie tells the tale of a guy who travelled the Old West killing people—and that his skeletal body is on display inside his tent. Ron Ford is convincing as the carnival guy and the woman(Athena Demos) who is attacked by the reanimated corpse does an adequate job, ... In fact, this mini-movie is so odd it's surreal.
Updated: FEB,14,'13

BOOTHILL... BLIND and DEAD words and music by dave parks
as performed by the Retro Riders:
Dave Parks : vocals, guitar, bass
Buck Reeder : lead guitar, vocals
Ron Brewer : drums

Last time I was out this way on a horse I ride real slow
I came upon a haunted place that everybody knows
It's lonesome though it's crowded there
And no one wants to go
Boothill... BLIND AND DEAD

From jonah hex down to the kid and good ole pecos red
You'll find 'em all a buried here but some ain't laid down yet
The problems of a gunfighter as I'm sure you have read
Theres always someone faster and a bounty on your head
Boothill... BLIND AND DEAD

At a western sideshow out of town on the banks of muddy creek
Ole pecos came a lookin' for some friends he was to meet
He paid his dime and went on in to look at the show
And what stood there before him was a site fit to behold
Boothill... BLIND AND DEAD

The ghosts of every dead cowboy ever to ride the range
stood there in their skin and bones and lookin' mighty strange
Now pecos red was never one ever to ride alone
His friends burst in and drew their guns and started to unload
Boothill... BLIND AND DEAD

But a dead mans not the kind of fool to just lay down and die
They tore those outlaws limb from limb and spit in their eyes
When all was over said and done ole pecos stood alone
A shadow of his former self nothin' but skin and bones
Boothill... BLIND AND DEAD
Now he rides the range on his horse just ole red alone
Following the devil's herd he rode off all alone
Boothill...BLIND AND DEAD
Boothill...BLIND AND DEAD
BOOTHILL... BLIND AND DEAD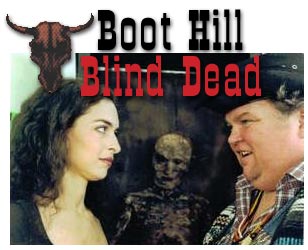 RON FORD & ATHENA DEMOS


Ron Ford is a total filmmaker. The producer/director/writer/actor/editor first broke into the genre scene as the writer of the 1994 horror hit "The Fear." Since then, he has written and directed many motion pictures for various companies, including his own Fat Free Features. Most (but not all) of his output has been in the horror and sci-fi genres. Ron, however, is interested in all types of movies. No matter what the genre, Ron tells a story in his own way, giving each movie his personal, unique stamp. As an actor, Ron has appeared in dozens of movies and professional theatrical productions.
ATHENA DEMOS - http://www.athenademos.tv
Vaquero Muerto Ciego del Cementerio, El [Méx]
Behind the Scenes of My Home Page
User comments:
Not Half Bad
I had really heard a lot of bad things about this film. But most of them weren't really true. It's no classic and it's very low budget, but it's entertaining for what it does. The movie ends before the pay-off of seeing the zombie devour the lady, but that works alright. Available on ebay or from the movie's website.
by: Verhoskan
ZOMBIE MOVIE DATA-BASE